General Information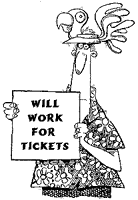 The bus is a 55-passenger coach bus with reclining seats, tinted windows, air conditioning,
DVD player, VCR, stereo, a driver, and most importantly - a bathroom!
We are planning to arrive by NOON! The show starts at 8:00PM. After the show we may cook
a few burgers, relax, drink more, then casually depart once the exit lines have lightened up.
If you have any questions, send an email to Chip now or call me at 860-668-1682.
For day of concert, my cell phone: 860-978-5713
---
COST
Bus Ride Only: $75 per person (Tickets to the concert are not included)
The bus cost includes parking fees & driver gratuity.
Preferred payment is by Venmo, PayPal or send check payable to: Chip Dyer, 9 Partridge Meadow, West Suffield, CT 06093
---
IMPORTANT STUFF
Bus Pickup: TBD A.M. at 9 Partridge Meadow, West Suffield, CT 06093 (our house) and maybe a couple other stops!
We leave from our house in West Suffield promptly, so... You need to be at our house ON TIME!
DO NOT BE LATE!!! The bus will leave without you!! (seriously)
Remember.... It takes a while to pack 40+ people and all the tailgating gear, so please arrive EARLY! P..L..E..A..S..E..
---
IMPORTANT NOTES
The following recommendation are good safe tailgating practice...
Please pack light (i.e. bring less chairs & grills etc...).
Great Woods scrunches everybody in. It seems we have less room each year!

For your alcoholic beverages (mixed drinks, beer, malt beverages, etc...) bring some "squeeze sports bottles"
and/or some type of covered container for your beverages. Lots of open container drinks (beers too) are
dumped by police every year (Great Woods). Remember - there is an "open container law" so be safe and
don't lose or spill your drink. Also remember that glass breaks and then people get hurt - especially
drunk people that fall with bottles... so be safe... bring your squeeze bottle!

If you don't intend on sitting down, please don't bring a chair. Every year it seems like we have about
80 chairs and only about 12 people actually sit!

We WILL NOT have much room on the bus for coolers on the ride up, so pack a small cooler or bag that
will fit overhead or with you in your seat for the ride up.
Have the Jell-O shots ready too.

Great Woods specific - Do not drink beer or wine coolers straight out of the bottle/can in the parking
lot - the Police Will Find You and dump it!
---
THINGS WE NEED BROUGHT
We need volunteers to bring the following items:
Pudding Shots!

EZ-Up / Quick Shade Canopies (a 2nd or 3rd)
Preferably larger sized 12'x12', preferably ones with square footprints, and preferably the
easy-open kind (not the ones with 50 poles to assemble). We need 2-4 large ones & 2-3 small.

Tables - 2 more 6 footers

A "decent" sized gas grill for everybody to use (instead of 23 small ones)

JELL-O SHOTS (see recipes)

ICE

Decorations - tropical/Buffett/ Landshark Lager, etc...

Plastic Silverware

Munchies - if each couple/single could bring 1 (and only one) bag of "munchies", we'll be all set.
Don't bring more than one, or we'll have way too much!

Limbo Gummy Rummies (needed for the limbo contests!)

Portable battery operated fan for the bus restroom.

Pump or small inflator to blow up decorations

Fans (12 to 20 inches) that can be hung from Ez-ups or stood on ground.
THINGS Chip and Donna will bring (so, you don't have too)
(We'll provide) Sound System, MP3 player, Tunes...

(We'll provide) Generator, gas, extension cords, power strips.

(We'll provide) EZ-Ups - two (2) 12x12s.

(We'll provide) Tables (2 6ft, 1 4ft).

(We'll provide) Trash bags.

(We'll provide) Paper Towels

(We'll provide) Toilet Paper

(We'll provide) First Aid Kit

(We'll provide) Bug spray

(We'll provide) Citronella Candles

(We'll provide) Wet Naps

(We'll provide) Air freshener for the bus restroom

(We'll provide) Latex gloves for dispensing gummy rummies

(We'll provide) Limbo
Please know that you are responsible for anything you bring on the bus.
We can not monitor everything, and we assume no responsibility for
things that accidentally break. If it breaks, you will need to
work out a 'replacement' on your own.
---
INDIVIDUAL THINGS FOR YOU TO BRING
Remember - please pack light.
Favorite drinking cup or Sport/Squeeze bottle and/or covered containers for drinks.

JELLO SHOTS - see recipes

Sunscreen

Bug spray

Buffett attire

Chairs

Food for yourself (sandwiches, hot dogs, hamburgers, rolls, condiments, etc)

Mixers, soda, ICE

Munchies

Wet naps

Non-Alcoholic drinks like water/gatorade/propel etc... (especially if it's a scorcher)

TICKETS

Beach Umbrella

Camera / digital camera / video camera

Hat

Inflator / pump for any decorations that need to be inflated

Rain gear (if appropriate)

Sunglasses

Acetaminophen / Ibuprofen / Aspirin for the alcohol induced headache that shows up after hours of tailgating.

DVDs for the bus ride up.

Cash $ for the $7.50 beers

and of course ALCOHOL!
Be sure to write your name on everything you bring that you would like to bring back home with you.
Take some masking tape and place it on your coolers/chairs/tables etc. and then
write your name on it. People lose items every year.
I recommend bringing sandwiches instead of burgers and dogs. It leaves much more time
for drinking without all that cooking, and more importantly... much more room on the bus!
---
THINGS NOT TO BRING (i.e. things we will have...)
Buffett / Tropical Tunes - we have plenty of Buffett tunes and much more...

Kegs - Great Woods does not allow kegs

Gas - I'll bring

Limbo Sticks - I have set from Billy & Maggie
---
INFORMATION FOR THE TWEETER CENTER (when we get there)
One year not so long ago, the space in front of the bus was already taken when we got there!
It was not pretty. The same thing may happen this year. So, as soon as we park - we all need
to pitch in to set up "camp." This may mean walking 3 or 4 busses down from our own bus,
but it needs to happen quickly! Space goes fast! We need to set up the tables and tents first -
don't worry about making a drink until after. Grab the tents, tables and chairs and spread out fast!
Sometimes Comcast Center cracks down hard at other shows, so please follow the guidelines below.
The general important items about Tweeter Center: (information below is from 2006 and is subject to change).
Remember, to have the ultimate tailgating experience, "you've got to play by Tweeter rules".
Please respect the staff, security, and police at the Tweeter Center. They do their best to
accommodate us in all of our craziness. If you have further questions, please contact the Tweeter Center.
The Parking lots usually open at 12 NOON for both Thursday's and Saturday's shows.

Cars entering the parking lots may be subject to ticket check - i.e. without tickets, you can not park in Tweeter Parking lot.

There is very limited amounts of space available for tailgating - everyone will be scrunched together.

RV's are allowed, but you will be sent over to the dirt parking lot, parked tight, and will be unable to open awnings.

Unopened water bottles are NOT be allowed inside the shows. The folks selling you bottled
water inside have been instructed to remove the covers from the bottles before they give them to you.
Tweeter Center parking lot attendants are backed by Tweeter Security and Mansfield Police!
The official word is: "Mansfield town by law prohibit the consumption of alcohol in our parking lots.
Anyone violating this law risks eviction." This has always been the law, and police have always "looked"
the other way provided you weren't noticeable and/or causing problems.
---
THINGS TO REMEMBER FOR THE DAY
Guys - No peeing in the bus! Please use the woods or the port-lets.
The bus toilet fills very fast and gets pretty full. We like to keep our women happy, so we don't
ask the women to pee in the woods, but we expect the guys to use the woods or the port-o-lets.

We'll try to take a GROUP PHOTO at 2:00 pm in front of the bus. If you would like to be in it...
be sure to get there!

Please keep an eye out for 'strays' looking for a place to pee. Many people just walk onto random
busses to use the toilets! If you see somebody you don't know, feel free to kick them out!

Bring sandwiches instead of grilling! Sandwiches are mush easier to prepare and nobody gets burned ;)

Bring less STUFF! Bring less STUFF! Bring less STUFF!

Tell your friends to look for us in the Peter Pan bus.

Use "Squeezee bottles" and/or some type of covered container for your beverages.

Simplify! Simplify! Simplify! Simplify! ... bring less stuff ;)
---
DIRECTIONS TO THE DYER's HOUSE
Our house is in West Suffield (9 Partridge Meadow, West Suffield, CT 06093)
We are near Congamond Lake on the border of CT and MA. If you look at a map, you'll see a "dip" in
the top of CT. We are on the lower right hand corner of that "dip."
The "Easy Way" from the North or South: Take I-91 to Exit 40 (Bradley Field Connector). Follow Bradley
Field Connector to Route 20 West (sign at exit for East Granby & Old Newgate Prison). Follow Route 20
West to NEWGATE Road (right hand turn at the top of hill; sign for Old Newgate Prison). Follow Newgate
Road to 1st Stop sign. Turn left onto Copper Hill Road. Take next right (fork) onto Griffin Road just past
golf course and continue straight until next stop sign. Turn LEFT onto Phelps Road and take your 1st right
onto Partridge Meadow. Our house is the 2nd house on the left - #9.
Click here for custom directions to our house.
---
NEED TICKETS ?
Who needs tickets?! The parking lot is MOST of the FUN!!! ;)
There are always folks selling tickets in the parking lot the day of the show. Be picky though... some are
scalpers... keep your eyes out for folks who's friends didn't show or are passed out... those are great deals!
Make a sign "Need Tickets" and write your cell phone # on it and post it on the bus front window or one of the canopies.
Never give up on tickets! Even if the show is said to be "Sold Out" this really doesn't mean there are no
tickets left. They always hold tickets back for friends of the band and corporate friends of the venue.
These unused tickets are released the last few days before the concert through the venue's ticketing
agency or the venue itself. Keep checking a few times a day up to and including the day of the show.
You can ALWAYS get tickets at StubHub.com
Also, keep checking with me as I may have extra tickets.
Also, keep checking Ticketmaster
---
LET OTHERS KNOW WHERE WE ARE
Chip's cell 860-978-5713 or Donna's cell 860-305-2004
Give us a call when you get there if you want to meet us.
---
I have made a lot of Jell-O shots in the past... here's some recipes and info on making them
in Microsoft Word Document or in Acrobat Reader PDF
---
Contact information:
Chip Dyer
Email: Chip@oneKid.net
Home: 860-668-1682
Cell: 860-978-5713 (Donna's cell is 860-305-2004)